I have tried many free and open source CAD programs, no one is good enough to be AutoCAD alternative. I found LibreCAD, the relative new 2D CAD software which has good potential, it's already have many CAD essential features.
What is CAD
CAD (computer-aided design), sometimes called as computer-aided drafting (CAD) or computer-aided design and drafting (CADD), is the computer software used for creation, modification, analysis, or optimization of a design, which is extensively used in industrial and architectural design.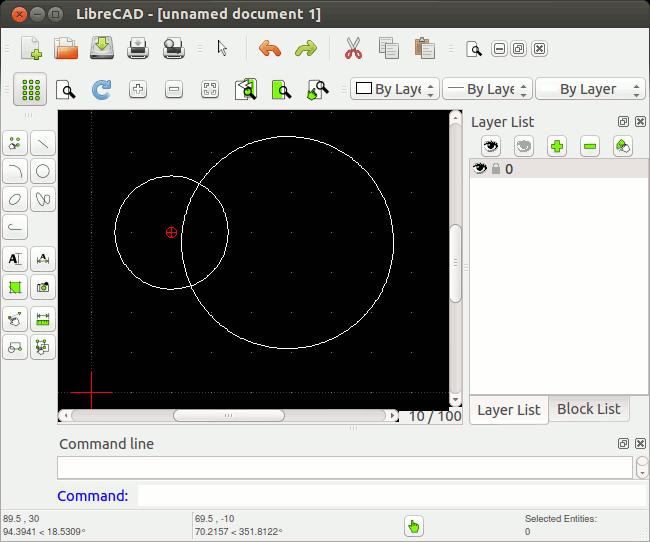 LibreCAD Fast Facts
LibreCAD is a free Open Source CAD application for Windows, Apple and Linux. Support and documentation is free from our large, dedicated community of users, contributors and developers. You, too, can also get involved!
— LibreCAD Website
LibreCAD is a project started to build extra capabilities into the QCAD community version.
LibreCAD is free, under open source GPLv2 license.
Available on Microsoft Windows, Mac OS X, Linux.
 Doesn't have any 3D capability.
LibreCAD 1.0.2 Features
I haven't really tested LibreCAD 1.0.2 yet, but from its user interface, I found these are the features:
Open and save: Drawing Interchange Format (dxf), LFF Font (lff) and Font (cxf).
Export wide range of file format (bmp, jpeg, png, eps, tiff, tga, pcx, pic, ico, …).
Draw Point, Line, Arc, Circle, Ellipse, Spline, Polyline, Text, Hatch, Image.
Dimension: Aligned, Linear, Horizontal, Vertical, Radial, Diametric, Angular, Leader.
Modify features: Move / Copy, Rotate, Scale, Mirror, Move and Rotate, Rotate Two, Trim, Trim Two, Lengthen, Bevel, Round, Divide, Stretch, Properties, Attributes, Delete, Delete Selected, Explode Text into Letters, Explode.
Snap: Free, Grid, Endpoints, On Entity, Center, Middle, Distance from Endpoint, Intersection, Intersection Manually, Restrict Nothing/Orthogonally/Horizontally/Vertically, Set Relative Zero, (Un-)Lock Relative Zero.
Info: Distance Point to Point, Distance Entity to Point, Angle between two lines, Total length of selected entities, Polygonal Area.
Layer management and Block management.
Available in many languages, customizable interface, paper format, drawing unit, grid, command line input, auto save and backup.
Left toolbar icons:
Draw Points
Lines
Arcs
Circles
Ellipses
Draw Splines
Polylines
Insert Text
Dimensions
Create Hatch
Insert Image
Modify
Info
Create Block
Select
Some other free CAD programs that you might want to know are PythonCAD, ZCAD, CADEMIA, avoCADo, Archimedes, FreeCAD, BRL-CAD, and OpenSCAD. I personally will say LibreCAD is the best among them, it's pretty full featured except it has no any 3D capability. If you can't effort the high price of any famous CAD software (like AutoCAD, ArchiCAD, SolidWorks, or CATIA), LibreCAD might be your best choice if you don't need any 3D feature.