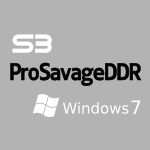 S3 ProSavageDDR is a very old graphics processor integrated in VIA motherboard chipsets. Savage was a product-line of computer graphics chipset designed by S3. But after being sold to VIA, Savage hardware became integrated motherboard graphics for VIA.
It supports DirectX 9 and some basic 3D features, you can use it to play Grand Theft Auto III but the performance is poor. There should be no reason to use it anymore.
But maybe if you have an old computer and it cannot start due to some motherboard issues and you get a motherboard with integrated S3 ProSavageDDR for replacement, that may work. Unfortunately, both VIA and S3 do not provide ProSavageDDR driver for Windows 7. Luckily some users manage to 'trick' Windows 7 to install and use ProSavageDDR Windows XP driver. And here I will explain you how to do it.
Get The Driver
If you download ProSavageDDR driver for Windows XP and try to install it on Windows 7, you will know it cannot be installed on Windows 7. So, where can you get the driver for Windows 7? Actually the driver needed for Windows 7 is the ProSavageDDR driver for Windows XP.
ProSavageDDR driver for Windows XP can be easily found and downloaded from the Internet. But if you have not get it you can download it from here. I got the driver from the Internet, tested and removed some unnecessary files.
Password: A8Y56
Download
Before Installing the driver
This is the most important thing you need to do for installing ProSavageDDR Window XP driver on Windows 7.
After uncompressing the downloaded file, go to the folder and find the "SETUP.exe", see the image below. There are many files named setup but the file you need is the one that has the type of "Application".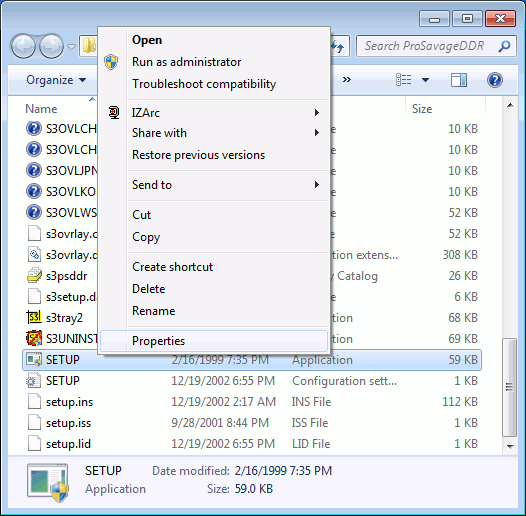 Right click on it and select "Properties", then there will be a dialog named "SETUP Properties" showing up. Click the "Compatibility" tab and enable the check for "Run this program in compatibility for:". On list, you need to select "Windows XP", see the image below: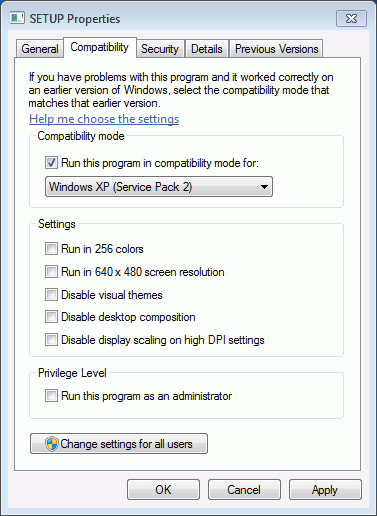 Do not forget to click the "Apply" button. Close the dialog and now you can install the driver by double clicking the SETUP.exe.
Make Sure The Driver is Properly Installed
Go to the "Device Manager" and expand the "Display adapters" section. You should now see the "S3 Graphics ProSavageDDR". And if you right click on it and select "Properties", the Driver Provider should be "S3 Graphics, Inc.".