Image optimizing is a good thing every web designer should do. It will make the image load faster and save bandwidth. There are many tools available to perform this task, the free and perhaps the easiest one is Smush.it.
Smush.it is an online service from Yahoo! Developer Network.
It will optimize your images using lossless compression techniques.
Image types that can be processed are JPEG, GIF, PNG.
Maximum allowed file size of the image is 1 MB.
For privacy reason, you should not upload your private images.
The optimized results are available for download from a temporary URL.
The temporary URL will be valid for 30 minutes after optimization.
You're not allowed to include any image that you don't have rights or permission to modify, unlawful, pornographic, racial, … You should read Smush.it Term of Use before you use it.
Here is my test using 4 random images: (scaled down and cropped)


And this is the report of the result: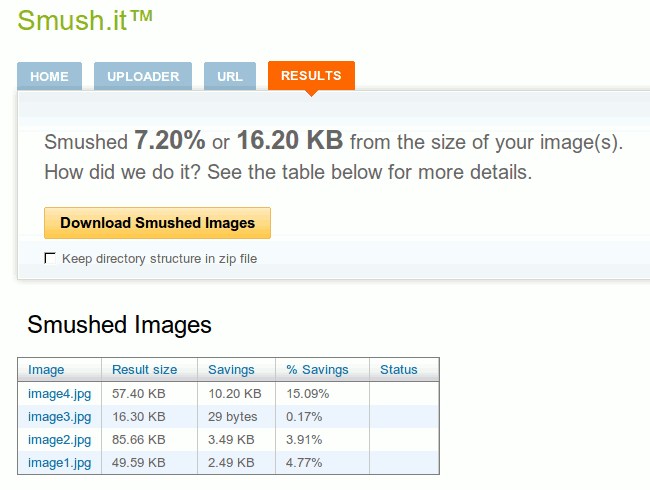 Click http://www.smushit.com/ysmush.it/ (broken link) website. If you like this tool, you might also want to try Trimage Image Compressor – an offline tool alternative to Smush.it. Or want to read Trimage and Smush.it Comparison.