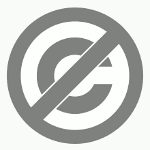 Finding a photo from the web for your design project is easy. But you cannot simply download and use it, most of them are copyrighted. Some are free but with restrictions. The least restricted free images you can find are those in the public domain.
What is the Public Domain?

The public domain of copyright refers to the aggregate of those works that are not restricted by copyright within a given jurisdiction. A work may be part of the public domain because the applicable term of copyright has expired, because the rightsholder surrendered copyright in the work with a tool like CC0, or because the work did not meet the applicable standards for copyrightability.
In the simple words, it means those works are free for any personal or commercial use, and you're allowed to edit it if necessary.
This page has a list of websites that offer public domain photos. But before you download and use it, you need to know:
Be careful with some photos that contain logos and products. Using someone else's trademark commercially can get you sued.
If a person is recognizable in an image, a model release must be obtained before using the image for commercial purposes.
Not all images in the listed websites are in public domain. You should read the information about the image before you download it.
PublicDomainPictures.net
Total images: 17.000+
Searchable: Yes
Categorized: Yes
RSS Feed list: Yes
License: Public Domain


Public Domain Images
Total images: 12000+
Searchable: Yes
Categorized: Yes
RSS Feed list: Yes
License: Public Domain
Note: the website is no longer available


BurningWell.org
Total images: 6000+
Searchable: Yes
Categorized: Yes
RSS Feed list: No
License: Public Domain


Public Domain Photos
Total images: ± 5000
Searchable: Yes
Categorized: Yes
RSS Feed list: No
Note: the website is no longer available


RePublic Domain
Total images: 4700+
Searchable: Yes
Categorized: No
RSS Feed list: No
License: Public Domain
Note: the website is no longer available


PDPhoto.org
Total images: 3000+
Searchable: Yes
Categorized: Yes
RSS Feed list: Yes
License: Public Domain


ThePublicDomain.net
Total images: 1800+
Searchable: Yes
Categorized: No
RSS Feed list: No
License: Public Domain
Note: the website is no longer available


Easy Stock Photos
Total images: 500+
Searchable: Yes
Categorized: Yes
RSS Feed list: No
License: Public Domain
Note: the website is no longer available


Public Domain Depot
Total images: 400+
Searchable: Yes
Categorized: Yes
RSS Feed list: Yes
License: Public Domain
Note: the website is no longer available


Plant Pages
Total images: 80+
Searchable: No
Categorized: Yes
RSS Feed list: No
License: Public Domain
Note: the website is no longer available